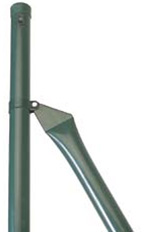 We supply both Galvanized Steel Posts and Enamel Coated Steel Fence Posts, for metal mesh fences support and installation. Steel bar and tubular posts are used as fencing accessories to support Mesh Panels or Razor Barbed Wire Tops. The steel fences and posts are all available in a variety of sizes and shapes.

The posts work mostly with these fence panels:
Chain link fence, welded wire mesh and field fence, euro fence and 358 security fences and barbed wire.

Dongfagn supplies two varieties of post profiles: round or square posts.

Popular System of Security Mesh Wire Fences with Fabrics, Posts and Concertina Wire:

Galvanized wire mesh, gauge 9, diamond openings 2 3/8" (two & three eighth inch), 8' (eight feet high), 96' long (ninety feet).
Fence posts, 1 5/8" (one and five eighth thick/diameter) x 21' (twenty one feet long).

Concertina wire rolls. Single coil barbed tape concertina with long blade, 450mm in diameter, fabricated from 0.6mm 0.05mm thick galvanized steel strip, 2.5mm 0.1mm diameter high tensile (220,000 psi) galvanized wire, each coil consists of 33 loops with erected length of 7m – 8m per coil.
The common Forms of Fence Posts available include "U" shape, Y shape, T shape and studded fence posts.
Finishes of Steel Posts include: Hot dipped galv., electro galvanized, black, green, and other color coating of PVC, enamel coating, bitumen coating, etc.
Applications of Steel Fence Posts:
Green Coated Diamond Mesh Chain Link Fabric Fixed with Green Plastic Coated Round Tube Steel Posts and Tie Wire. Export Markets: Europe, South America, Australia, North America, Asia etc.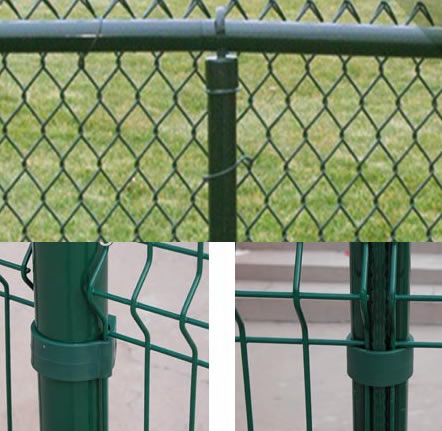 PVC Coated Welded Wire Perimeter Fence Installed with Green and Yellow Coated Steel Square Tube Posts and Claps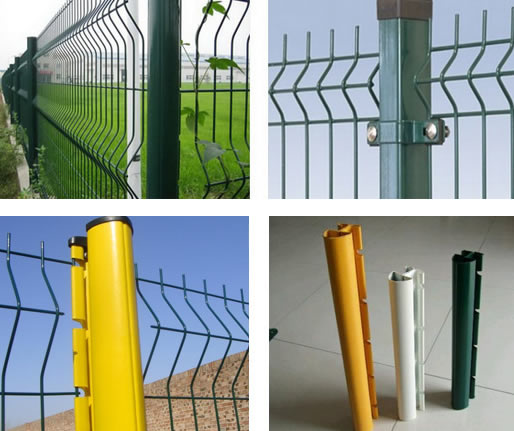 We commonly provide metal fence posts in lengths varying from 5 to 8 feet in 6-inch increments. Steel posts normally cost more than wooden posts and can be bent or forced out of line by livestock crowding. Wooden anchor posts placed every 50 to 75 feet are sometimes used to provide added bending resistance for steel line posts. For permanent fencing, metal fence posts should be used. Steel posts offer a number of advantages over wooden posts:
Lighter in weight;
Fireproof;
Extremely durable;
Easy to drive.
Hot Dipped Galvanized Cattle Farming Field Fence Fixed with Posts: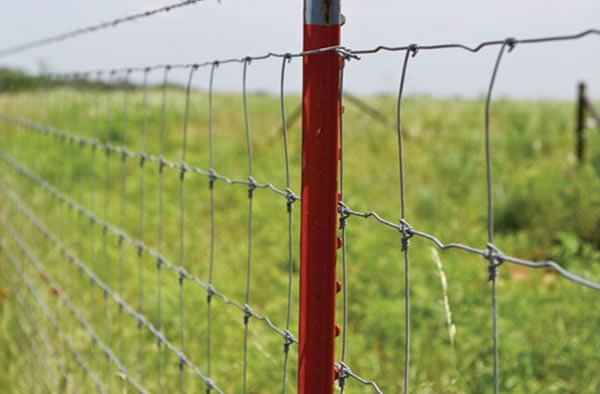 Galvanized or PVC / Plastic Coated/ Painted Fencing Posts:
For chain link fence for tennis courts, soccer field, volleyball court, or other wire fence panels galvanized or coated.
Surface Treatment:
electric galvanized ( serve 3-5 years)
hot-dip galvanized (serve 15-20years)
PVC coated (serve 8-10 years)
powder coated (serve 5-7 years)
Specification of Galvanized HDG and EG Steel Posts in T Shape Iron Bars:
T Post/ Studded T Post/ T Fence Post with Spade
MEASUREMENT
5'
5.5'
6'
6.5'
7'
8'
Remark: specia dimensions can be customized.
SPEC
PCS/MT
PCS/MT
PCS/MT
PCS/MT
PCS/MT
PCS/MT
0.83lb/feet
531
483
442
408
379
332
0.85lb/feet
518
471
432
399
370
324
0.90lb/feet
490
445
408
377
350
306
0.95lb/feet
464
422
386
357
331
290
1.10lb/feet
400
364
334
308
286
250
1.15lb/feet
383
348
319
295
274
239
1.25lb/feet
352
320
294
271
252
220
1.33lb/feet
331
301
276
255
237
207
Specifications:
1. Type: T post with spade or without spade.
2. Weight: from 0.83bl/feet to 1.33lb/feet.
3. Length: from 5' to 8' or according to the requirements of customers.
4. Surface: Green power coated with ivory or yellow top/PVC-coated/Hot dipped galvanized.
5. Usage: T post is widely used in USA for gardens and farms.
6. Packing: 5 pcs/ bundle, 40 bundles/ pallet or 80 bundles/ pallet.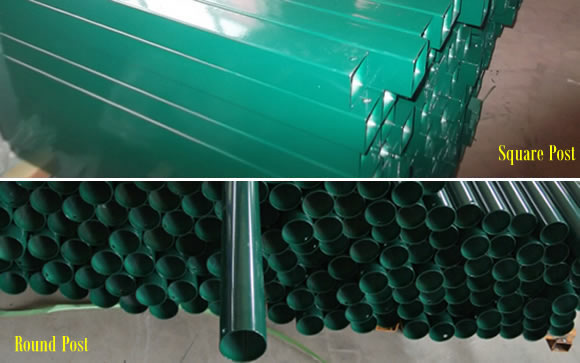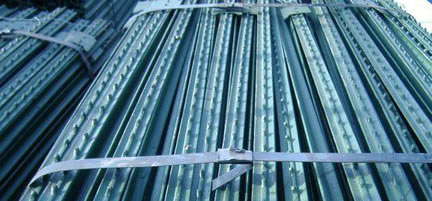 We also supply various wire mesh fence fabrics for export.
Chain Link Fence Specifications:
Fence Height
cm

Fence Length(2m)

Fence Length(2.5m)

Wire Gauge

Wire Diameter
mm

Opening
cm

Weight kg/piece

Fixing Pole

Wire Gauge

Wire Diameter mm

Opening cm

Weight kg/piece

Fixing Pole

Weight kg/set

Weight kg/set

60

10#/8#

3.24

5X12

6.5

1.9

10#/8#

3.24

5X12

8.6

1.9

80

10#/8#

3.24

5X12

7.5

2.3

10#/8#

3.24

5X12

9.9

2.3

100

10#/8#

3.24

5X12

8.5

2.7

10#/8#

3.24

5X12

11.2

2.7

120

10#/8#

3.24

5X12

9

3.1

10#/8#

3.24

5X12

11.9

3.1

150

10#/8#

3.24

5X12

11

3.7

10#/8#

3.24

5X12

14.5

3.7

180

10#/8#

3.24

5X12

12.5

4.3

10#/8#

3.24

5X12

16.5

4.3

200

10#/8#

3.24

5X12

13.5

4.7

10#/8#

3.24

5X12

17.8

4.7