Dongfang as China manufacturers of Metal Fence and Posts, exports Euro type steel posts and Euro Fences. Euro Fence is also known as Holland Mesh or Euro-Mesh, a kind of welded wire fence pre-galvanized and plastic / enamel coated.

Our Euro type steel posts are mainly used for construction and installation of Euro fences used in garden boardering. Also called garden fence posts.

Product Line:
- PVC or Enamel Coated Welded Mesh Fence
- PVC-coated or Enamel Coated steel posts Euro L or T types. Available in Green, Yellow, Black, Grey, White and other colors. Mostly green colors. Hot dipped galvanizing treatment for the posts also available.
Euro T- Post and Euro L-Post for Green Coated Welded Wire Mesh Garden Fences:
Specification 1-3/4" x 1-3/4" x 24"H (Thickness: 3/16")
Power Coating in Green Enamel coats.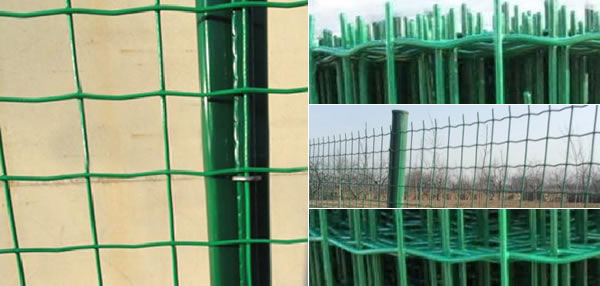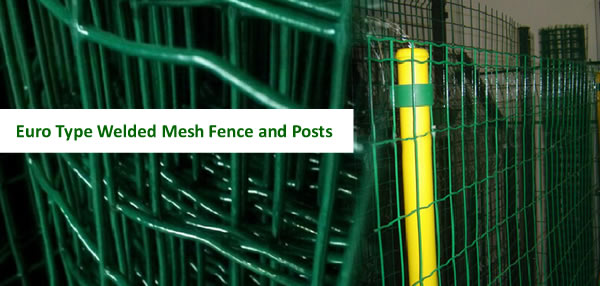 Euro post fence This series of protective mesh are simple in structure ,economics-aesthetics ,easy to transport ,convenient to install,and suitable for any topography.
Material: high quality mild steel wire
Wire diameter: normal size 2.5-6.5mm
Surface treatment: electro galvanized , Hot-dipped galvanized ,plastic spraying or PVC dipping.
Mesh size: 5x10cm 5x15cm 5x20 cm or according to your needs
MOQ: one 20ft container
Mesh Panel: Using high quality Iron Rod as raw material ,welded them according to certain shape ,
after galvanization ,powder primer and powder top coating ,it can resist the corrosive and ultraviolet radiation very strongly ,
the thickness of powder coating is 100-200microns usually ,the wire diameters are 2.0-8.0mm ,it obtains high strong powers to resist the construction

Euro fence is simple, the net is welded with high quality galvanized wire, then PVC coated, then through a special column and clipped together, the overall structure is simple and generous. Main market is Europe, and most countries of the world also have some demand
Installation:
Line Post
Normally will be put at 3m intervals.
Profile
Wall Thickness
Surface Treatment
Length
Base Plate
Rainhat
Φ48
60
1.5mm
2.0mm
Galvanized and
Electrostatic polyester powder coated
On the basis of fence height
Available
Plastic
Profile
Wall Thickness
Surface Treatment
Length
Base Plate
Rainhat
Φ38
48
1.5mm
Galvanized and
Electrostatic polyester powder coated
On the basis of fence height
Available
Plastic
Fittings:
Small steel rings in galvanized steel or stainless steel. The mesh will be fixed on the post with this kind of clips at 15cm-20 cm intervals

Use:
*Garden and park
*High way or railway road
*Farmland

Euro Mesh Holland Fence:
Mesh
Wire Thickness
Surface Treatment
Panel Width
Height
50x50mm
or
50x100mm
2.5-3.0mm
Pre-galvanized wire and PVC coated
25m
1.00m
1.20m
1.50m
1.80m
2.00m
Euro T-POST Specifications:
Length(cm)
Size(mm)
Weight(kg/pc)

750
30 x 30 x 3,5
1.14
100
30 x 30 x 3,5
1.5
120
30 x 30 x 3,5
1.8
145
30 x 30 x 3,5
2.2
175
30 x 30 x 3,5
2.65
200
30 x 30 x 3,5
3
Euro L-POST Specifications:
Length(cm)
Size(mm)
Weight(kg/pc)

100

25 x 12 x 4

1.26
120

25 x 12 x 4
1.52
150

25 x 12 x 4
1.9
200

25 x 12 x 4
2.53
225
25 x 12 x 4
2.85