According to Finishes, Fence Posts are classified into FIVE major types:

1. Steel Fence Posts Galvanized with Zinc Plating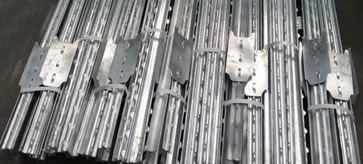 Most commonly used products. Either galvanized iron or hot dipped galvanized (HDG) steel posts. The zinc plating finish offers better corrosion resistance property to the steel posts. Galvanized steel fence posts are light in weight, fireproof, extremely durable, and relatively easy to drive. The posts are available in lengths varying from 5 to 8 feet in 6-inch increments.

Steel posts can be supplied in almost all shapes: T-post, Y-post, L-post, Studded T post, U channel post and various tubular posts. GI fence posts and HDG posts are used together with Pre-galvanized wire mesh fence and hot dipped zinc plated wire fence barriers. Learn more.
---
2. Plastic (PVC) Coated Steel Posts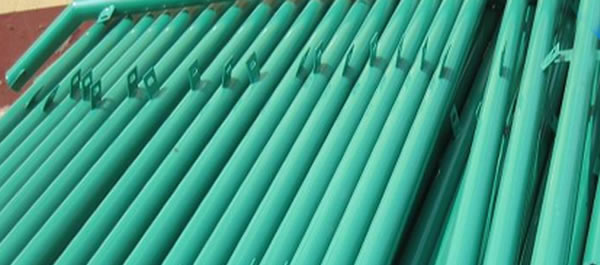 ---
3. Epoxy Coated Steel Posts

---

4. Enamel Coated Fence Posts with Popular Green Color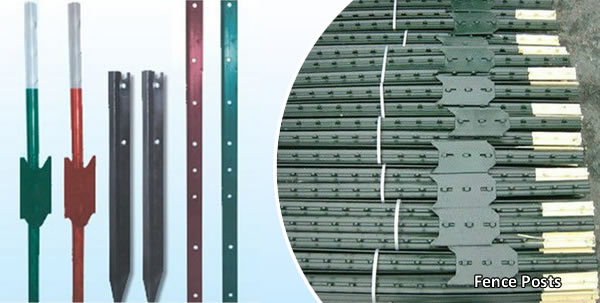 ---
5. Black Bitumen Coated Steel Posts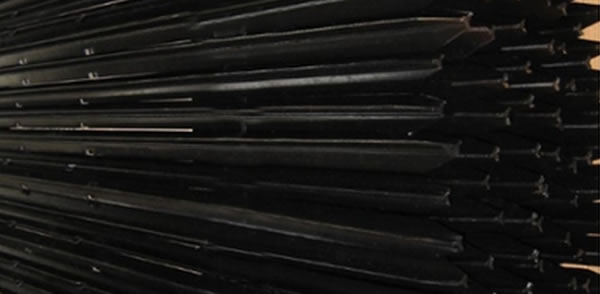 Metal steel posts can be supplied with color coatings by using of plastic, epoxy, enamel or Bitumen coating layer. PVC and enamel coated fence posts have beautiful multi-color choices and good weather resistance. Popular colors for PVC and epoxy coating include Green, Black, Yellow and etc. The color coated fencing posts are used together with Enamel Coated Euro Fence, Green PVC Coated Chain Link Fence and other plastic coated mesh fences. All steel posts can be treated with plastic or other coating.
---
Fence Posts are popularly used to THREE MAJOR TARGET MARKETS:
Galvanized Y post or PVC coated Star Picket form. This kind of steel fence post enjoys an improved rate of 30% in mechanical property and physical propery compared with common steel posts with same section size. Easy installation at low cost. Ideal for quick installation of expressway or highway wire mesh fencing, beach farming, fish farming and salt farm and field fencing uses in Australia and New Zealand.

Supplied in common length: 0.45M,0.6M,0.9M,1.35M,1.5M,1.65M,1.8M,2.1M,2.4M,3.0M.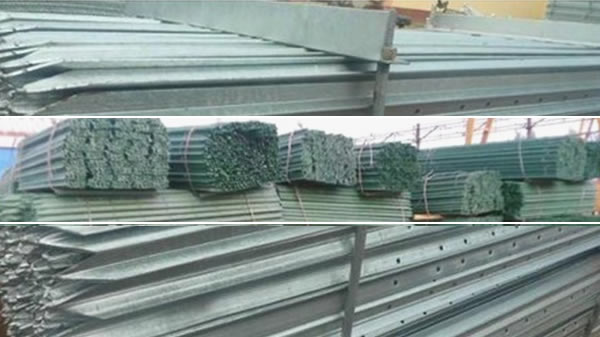 Billet Steel or Rail Steel American Style Studded T Fence Posts, for USA and Canada Market
American or USA Style Posts are Studded T Posts processed from billet steel or rail steel materials. Bitumen black coated, hot dipped galvanized or green painted.

We supply light duty, regular duty and heavy duty T fence posts.
With or with no spades;
With or without stabilizer plate attachment.
For installation of the fence panels without clamps and bolts, with easier installation and wider application.
Studded T Bar Post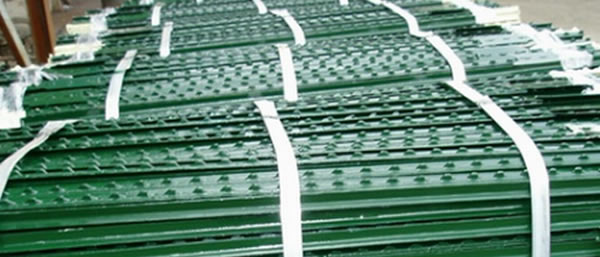 Euro fence is popular mesh fence type used in European countries for garden fencing. Mostly welded mesh light type with green pvc coating. Also called Holland Fence. The fence panels are installed with column posts and clipped together. The posts used are called Euro Posts, in T or L shape, tubular pipes. Enamel green or plastic coated to fit the mesh fencing colors.
Mesh Fencing Barrier Systems with Metal Posts Support
Metal steel posts can be used for installation and construction of various wire fencing systems. Typical mesh fences systems with posts include Holland Fence ( Garden Fence ), Welded Mesh, Pre Galvanized Wire Mesh, Chain Link Fence, Chicken Wire, Security Fence, Barbed Wire, Razor Wire and more.

Galvanized Iron Chain Link Mesh System
Typical Size:
Galvanized wire mesh with typical 9 gauge wire, holes of diamonds in 2 3/8" (two & three eighth inch), 8' (eight feet high), 96' long (ninety feet).
Fence posts options:
1 5/8" (one and five eighth thick/diameter) x 21' (twenty one feet long);
3inch x 20', chain link gates posts with tension bar, 3/16"x3/4"x94";
4 x 4 fencepost spikes.
5 foot u post or T post. T-POST w/spades. galv or painted.

Welded Wire Mesh Hardware Cloth
The Hot Dipped Galvanized Steel Welded Wire Mesh Fences and Posts are coated with standard zinc thickness in "g/m2". The holes can be rectangular or square mesh. Stainless steel hardware cloth also available.
Wire mesh: 4mm diameter, a rectangular opening of 2 "x4" holes.

358 Mesh Welded Anti-Cut Anti-Climb Security Fencing & Enclosure
The welded steel mesh panels are made of high quality carbon steel wires. Designed to secure perimeter protection for industrial and commercial properties, public utilities. With no blind spots, 358 security mesh is suited for electronic alarm and detection systems used for Military, airports, secure units and prisons. Also called Prison Fence.
The metal steel welded mesh panels topped with concertina wire coils of razor barbed tapes form maximum security enclosures.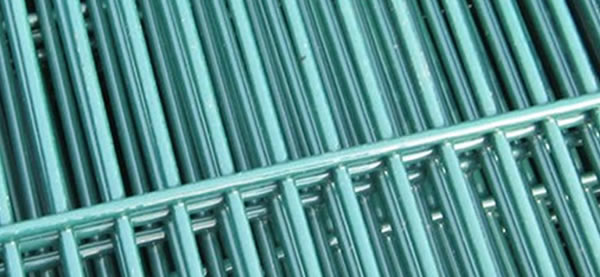 Galvanized Fencing Wire, High Tensile Wire Fence and Field Fence, Fixed with Metal Posts and Fence Staples